HUMAN TAIL دختر سه ماهه ای که با دم متولد شده است دم جزو اندام های وستیجیال است که بتدریج در سیر تکا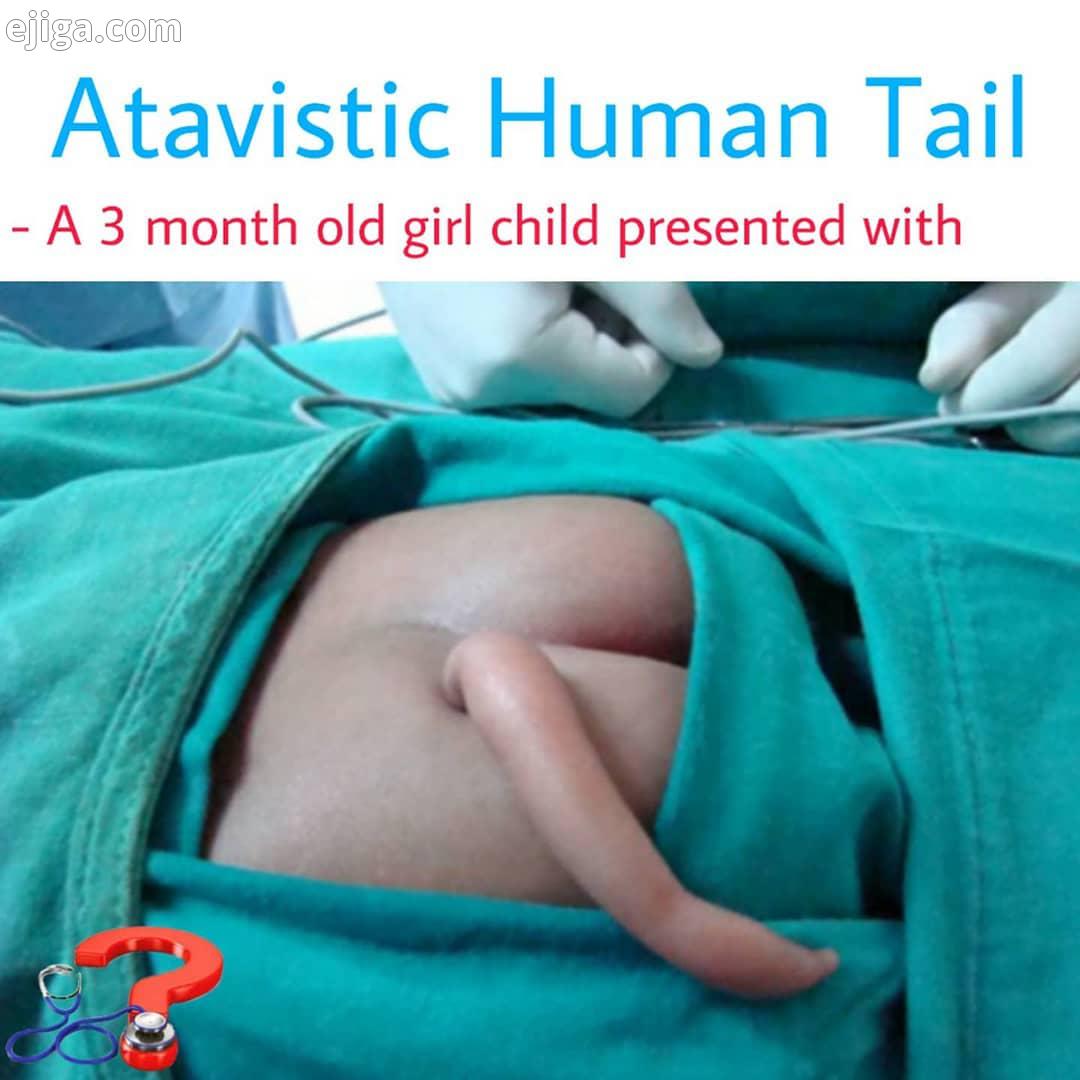 ?HUMAN TAIL?
دختر سه ماهه ای که با دم متولد شده است. دم جزو اندام های وستیجیال است که بتدریج در سیر تکامل، بدلیل عدم کاربرد، حذف شده است ولی گاهی نقایص ژنتیکی، منجر به بروز مجدد آنها می شود.
It is a caudal, vestigial, midline protrusion with skin covering a combination of muscle and adipose tissue.⠀
⠀
✅It may be a 'truetail' or a '
#‌pseudotail
'.
✅Pseudo-tails are lesions of various types coincidentally found in the caudal region of newborns, often associated with the spinal column and coccygeal
#‌malformations
.
⏩The true human tail is characterised by a complex arrangement of adipose and connective tissue, central bundles of longitudinally arranged striated muscle in the core, blood vessels, nerve fibres, nerve ganglion cells and specialised pressure sensing nerve organs (
#‌VaterPaciniCorpuscles
). It is covered by normal skin, replete with hair follicles, sweat glands and sebaceous glands.
⏩Rarely, voluntary contractions in response to emotional states have been documented.⠀
⠀
⏩The dorsal cutaneous appendage, or so-called human tail, is considered to be a marker of underlying intraspinal pathology of occult
#‌spinaldysraphism
.
⏩Human tails may be associated with other congenital anomalies in 29% of cases, commonest is
#‌spinabifida
. ⠀
⠀
⏩The true atavistic tail of humans results from incomplete regression of the most distal end of the normal embryonic tail found in the developing human fetus. Human embryos normally have a prenatal tail that measures about one-sixth of the size of the embryo itself.⠀
⠀
⏩At between 4 and 5 weeks of age, the normal human embryo has 10–12 developing tail vertebrae. By the 8th week of
#‌gestation
, the sixth to twelfth tail vertebrae have disappeared via cell death, and likewise, the associated tail tissues also undergo cell death and regress.
⏩
#‌Apoptosis
plays a significant role in removing the tail of a human embryo after it has formed. It is now known that downregulation of the Wnt-3a gene induces apoptosis of tail cells during mouse development. Thus, any mutation resulting in increased dosage of the Wnt-3a gene would reduce apoptosis of the human tail during development and would result in its retention in the newborn.
---
تبلیغات